Register With AKC – 3 Ways To Register Your Dog With The American Kennel Club (AKC) Today
The American Kennel Club (AKC), founded in 1884 is a not-for-profit company that actively advocates for responsible dog ownership and is dedicated to advancing dog sports. When you register with AKC, it means that you have submitted an application and received approval through a registration certificate from the American Kennel Club for your dog.
According to the AKC, "A purebred dog is eligible for AKC registration if its litter has been registered. Thus, when you purchase a dog said to be AKC-registrable, you should get an individual Dog Registration Application from the seller."
The above means that the American Kennel Club (AKC) allows you to register "purebred dogs," or dogs who belong to an approved dog breed and have a registration numbers. Although you can sign your dog up for an alternative program if it doesn't have a registration number, but it won't be officially registered.
Therefore, registering your dog will make it eligible to compete in AKC events and will help if you want to sell or breed your dog in the future.
Having said the above, we will guide you in this article through the steps to register with AKC for your dogs.
Steps To Register With AKC – 3 Ways To Register Your Dog With AKC
Whether you are registering a single dog or a whole litter of puppies, it's a simple process. And below, you'll learn those process involved to register with AKC.
Method 1: Registering a Purebred Dog With a Registration Number
This method is only possible if your dog came with a certificate showing it is eligible for AKC
Step One: Find your dog's registration number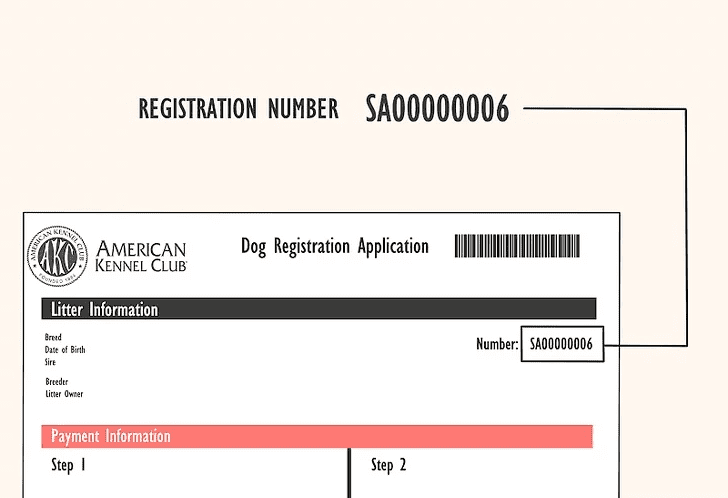 When you buy an eligible dog, it will come with a certificate showing its parentage and proving that it's a purebred. Therefore, the AKC registration number will appear on the certificate.
Step Two: Pick the AKC-approved name for your dog
The AKC has specific rules about what kind of names are allowed for each dog, despite the fact that you have the right to name your dog if you own it while registering with the AKC. According to the rule, the name has to be 50 characters, though there's an extra fee for names over 36 characters. Again, the letters have to be in English with exception of Roman numerals and accent marks. In other words, there are certain words that are not allowed in AKC names such as champion, or other show terms, derogatory words, breed names alone, or words like male, stud, sire, or female.
Note:
You have to register an imported dog with the same name it was registered with in its birth country, except you can add a Registered Kennel Name.
The AKC only allows 37 dogs of each breed to have the same name.
Step Three: Proceed to Register a US-born dog and Pay the fee on AKC website
If your dog was born in the US, you can register online at the AKC website. All you have to do is to fill out the form with your dog's registration number, name, and your contact information. Even if you bought the dog from a breeder who have prepaid the dog registration fee, you will still have to pay to register your ownership of the dog online.
Step Four: Send Foreign Dog Application For Dogs Born Outside the US as Mail
To process this, just go to the AKC website and download the Foreign Dog Registration Application to register with AKC. Together with the application form, you'll have to mail in photocopies of the certificate of registration and the 3-generation Certified Pedigree. To include in the mail are; color photographs of the dog standing, 1 from the front and 1 from the side, with the dog's name and registration number on the back of each photograph.
Mail the completed application with attachments to: The American Kennel Club, P.O. Box 900058 Raleigh, NC, 27675-9058.
Step Five: Adopt Open Registration Method If Your Dog's Breed Was Recently Registered
In certain cases, you can register with AKC new breeds as official breeds. If this is the case, the AKC sets a limited time frame within which you can register your dog through Open Registration. However, the dog must first be registered with an approved domestic registry and registered to the same owner who appears on the domestic registry certificate before it can be eligible.
Also Read
Top 10 World Richest People In 2022: New Twitter Shareholder & Tesla CEO Tops Others
Method 2: Enrolling a Dog Without a Registration Number
To register with AKC, your dog must be a purebred dog. Mixed breeds, such as goldendoodles or yorkipoos, thus, don't count as purebred. To register with AKC for a dog without a registration number, here are the steps to follow;
Step One: Check if your Dog is a Purebred by Visiting the AKC Website
Like we said above, there are many different kinds of dogs and dog breeds out there, but the AKC has specific standards and rules for what counts as a purebred. Meanwhile, the AKC recognises 193 breeds.
Note that a purebred dog will "breed true," meaning if they have a child with another dog of their breed, the child will be recognisably of the same breed.
Step Two: Add your Dog in Purebred Alternative Listing if it's a Purebred
Let's say, you have a purebred dog, but it's from an unregistered litter or unregistered parents, you won't be able to officially register your dog with the AKC. However, you can enroll the dog in the Purebred Alternative Listing (PAL) program, so that your dog can participate in AKC Companion and Performance Events.
To get this done, download the form from the AKC website.
Include a $35 application fee and 2 color photos of the dog from the front and side
Mail the application to: The American Kennel Club/PAL, PO Box 900059, Raleigh, NC 27675-9059.
Step Three: Sign Up a Mixed Breed Dog for the Canine Partners Program
Although not the same as to register with AKC, but the Canine Partners Program lets your mixed breed dog participate in some AKC events like agility, scent work, obedience, and tracking. Again, you can receive benefits like enrolling in their lost pet service and receiving their magazine.
This program will only cost you $35.
Method 3: Filling Forms For a Litter
For this last but not the list method of registering your dog with AKC, here are the simple steps to follow;
Step One: Register a Litter of Purebred, US-born Puppies on the AKC Website
Here, you can register your litter if the puppies were born to an AKC-registered dam that was mated to an AKC-registered sire of the same dog breed. Meanwhile, there are different forms depending on whether you own the dam (mom) and the sire (dad), just the dam, or just the sire. You can visit the AKC website to find the right form for your litter.
For you to complete the form, you will need to provide registration numbers for the dam and sire, the litter date of birth, and owner information. Also, you have the option of registering on paper by printing out the form on the website and then mailing it in.
Step Two: Send an Application Through Mail if the Litter was Conceived by Artificial Insemination or Imported in Whelp.
In such situation as above, you cannot register your litter online, rather, you will have to visit the AKC website and print the appropriate form. Meanwhile, there are different forms depending on whether your litter was inseminated from fresh, fresh extended, or frozen semen. Also, there is a different form to register a litter of puppies from an AKC-registered female imported in whelp.
To complete the form, note that;
A litter application form includes a processing fee ($30.00) plus a puppy fee (multiply the number of live puppies by $2.00), and added fees for expedited handling or late registration.
For standard handling, send the completed application to: The American Kennel Club P.O. Box 900058 Raleigh, NC 27675-9058.
For expedited handling, send it to: The American Kennel Club P.O. Box 900055 Raleigh, NC 27675-9055.
Step Three: Register the Individual Puppies After You Have Registered the Litter
Look up for a like to prepay the registrations for your puppies on the same webpage that you registered the litter. As a breeder, you will need to log in with the litter number, am registration number, and dam certificate issue date before you can for the puppies.
Moreover, once you've paid for the puppies, you can update their registration when they get a new owner and print a modified AKC registration form. You can as well allow the registration fee for the new owner to pay once they buy your puppy.
Take Away
The American Kennel Club (AKC) is a purebred dog pedigree registry in the United States. The AKC ensures for the responsible ownership of dogs and promotes purebred dog events, such as the Westminster Dog Show.
To register with AKC, this article, we believe have provided you with every information you may need. Feel free to give us a feedback via our comments section below!